Linking Datasets Together
Linking datasets together
Learn how to add value to your data by linking extra datasets to your subject dataset.
Viewing your datasets

You can find all your uploaded datasets under "My Data" from the primary navigation. Atmolytics Cloud will display an overview of your milestones and datasets.
If you click on the 'Datasets' tab, you'll be able to view all your current datasets. You'll also be able to update and add extra datasets from this section.
Adding an extra dataset
Atmolytics Cloud makes it easy to add an extra dataset.

To add an extra dataset, click "Import" and choose "Additional [subject noun] data".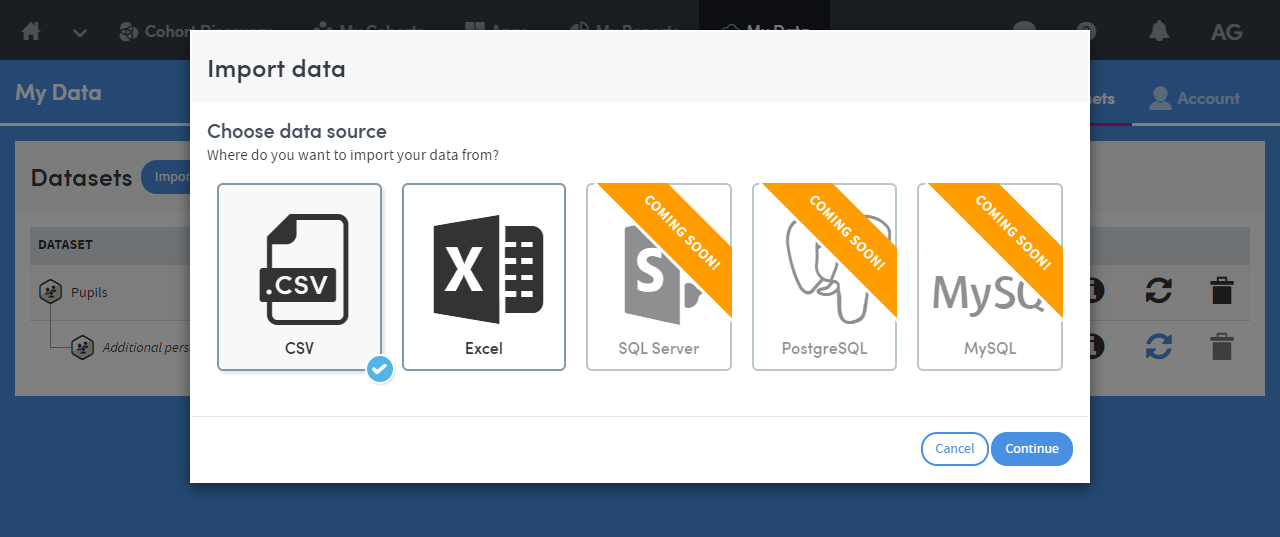 Select the data source you'd like Atmolytics Cloud to use.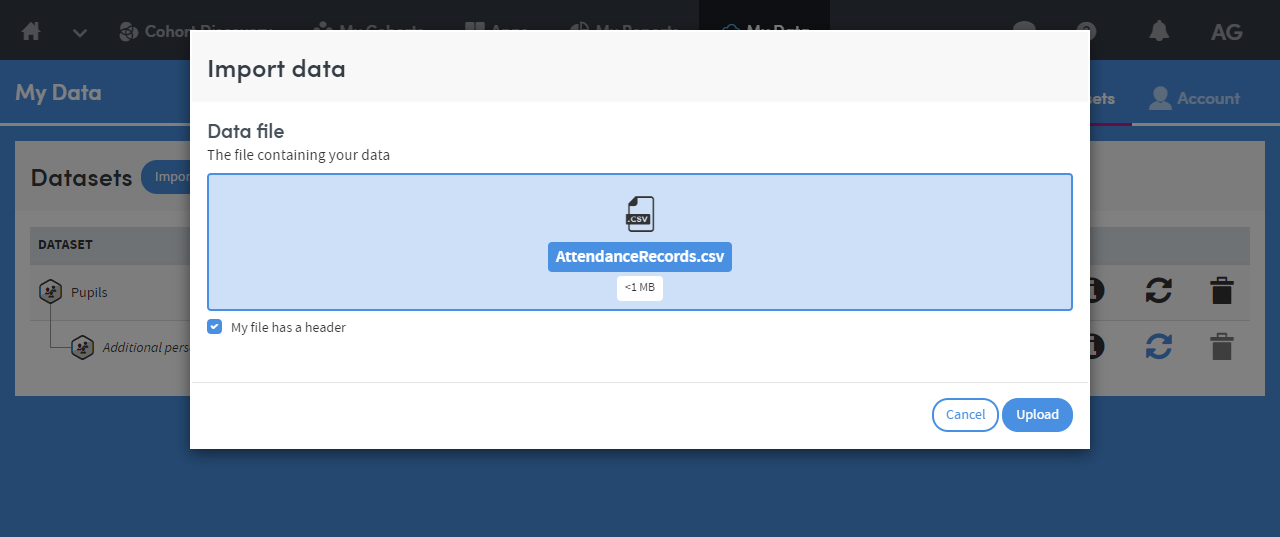 If you're uploading a file, browse or drag a file into the file container and then click 'Upload'.
Depending on the data source, we might ask for some extra information.
For example:
Does it have headers?
Which sheet do you want to analyse?
Analysis results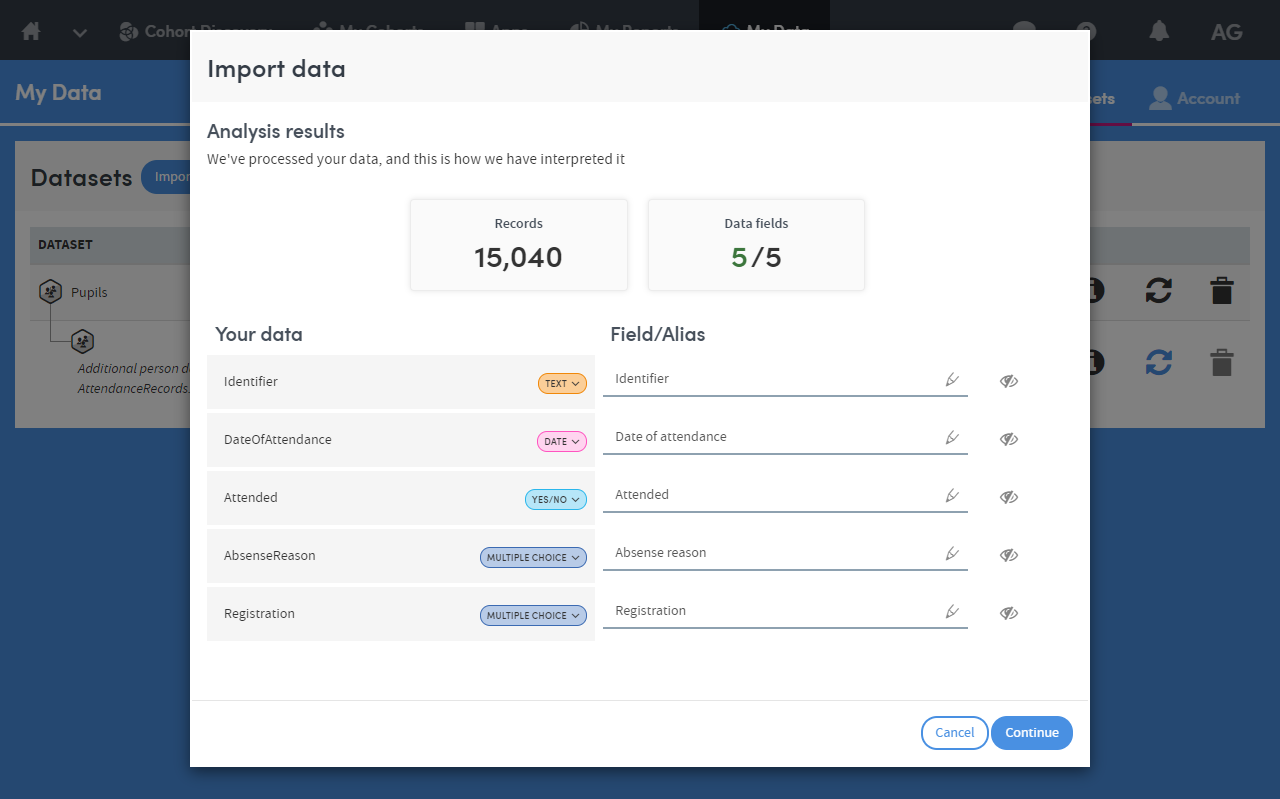 The analysis results will show you the number of records and fields found in your dataset. You'll be able to choose the type of data for each field and add or alter the field's name. You can remove any unwanted data by selecting the 'eye icon'.
Linking your datasets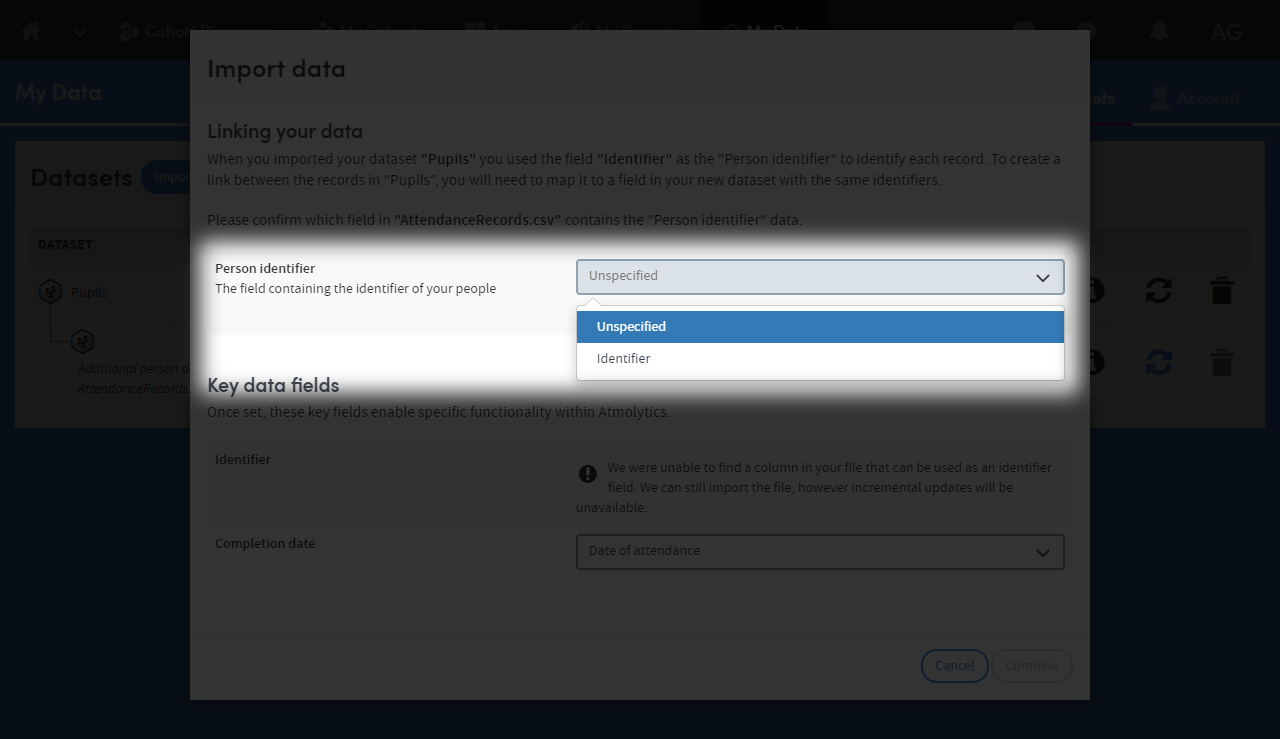 If your subject dataset has a unique identifier, you'll be able to link your extra datasets to it. The unique identifier will need to be present in your extra dataset. When you upload an extra dataset, we'll ask you to select the unique identifier to link them together.
The power of the unique identifier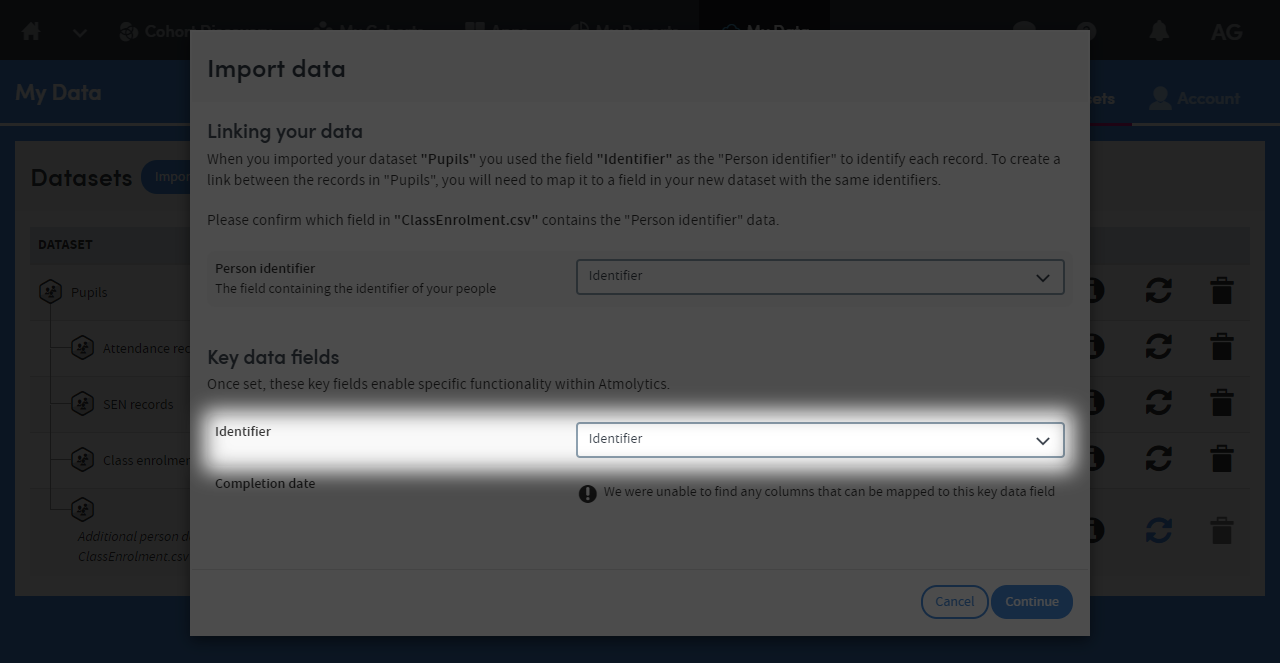 If you plan to update your data, you'll need to include a unique identifier for each row. This will help keep your data in Atmolytics Cloud up-to-date and help identify changes. If you don't have a unique identifier, incremental updates won't be possible, though you will be able to remove and refresh the entire dataset.
Choosing a completed date (Optional)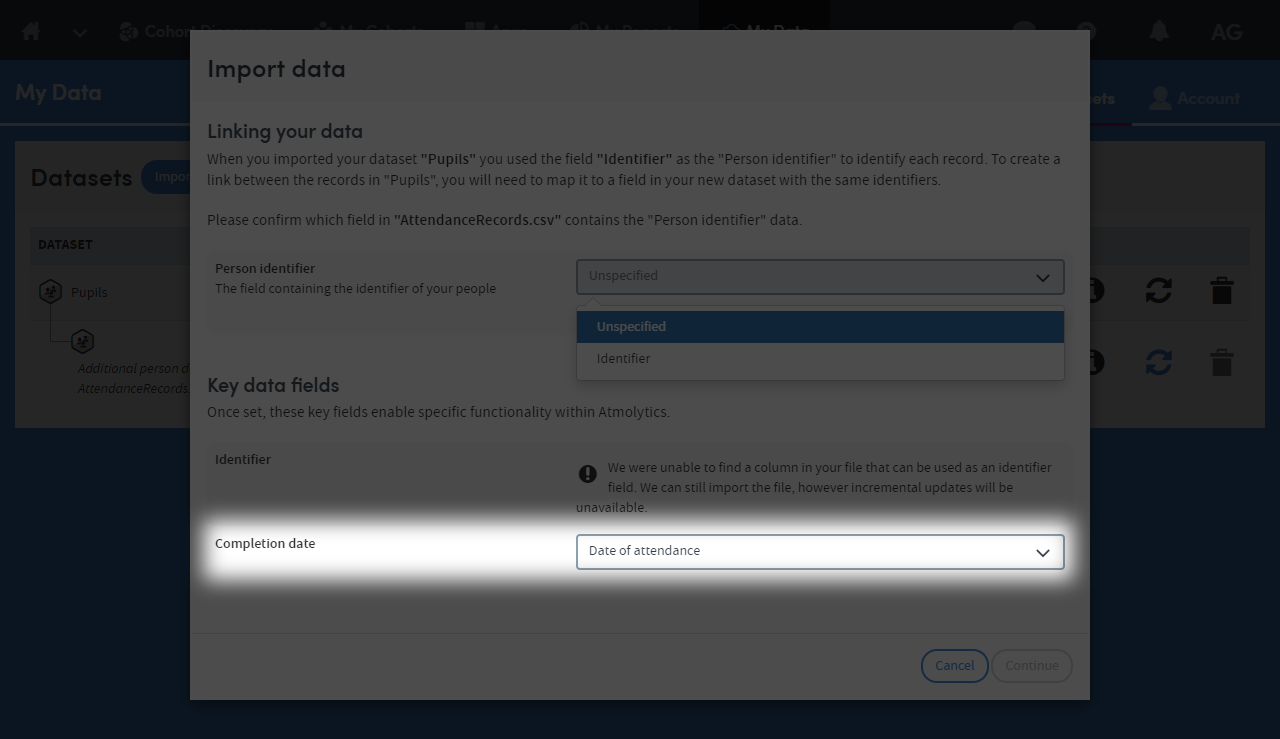 More functionality will be available to you if you use this field in Atmolytics Cloud. Select a completed date that marks:
the completion; or
the end; or
the close of something
You'll then be able to choose between 'open' or 'active' data and 'completed' or 'historic' records. Leave this field undefined if there is no suitable date in your dataset.
Import and complete

You'll see the bell icon ring when your dataset has finished importing. You can find the bell icon in the primary navigation. Your extra dataset will be ready to use to create more Cohort Insights. You can repeat this process to upload as many extra datasets as you like.
Have more data?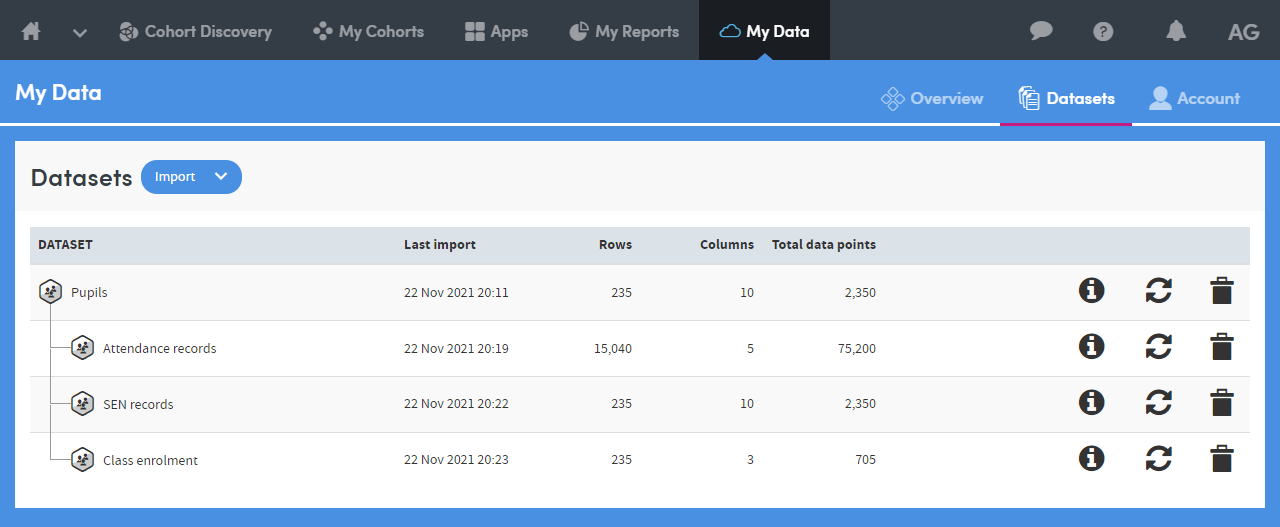 You can repeat the process to upload as many additional datasets as you need. The more you add, the richer your analysis will be.